Gay sex legalized in northern Cyprus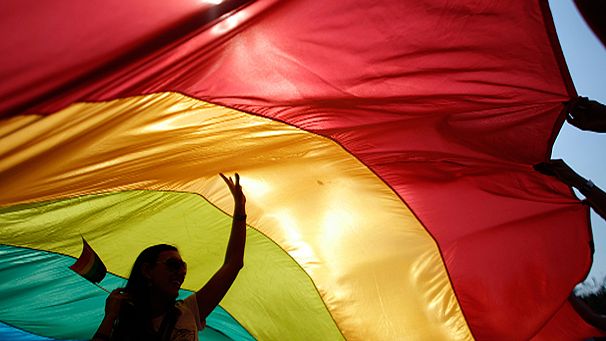 The northern part of Cyprus was until today the only European territory where gay sex was illegal among adults.
Turkish Cypriot deputies have passed an amendment changing the law that punished homosexual acts with up to five years in prison.
Dervis Eroglu, the Turkish Cypriot community leader, has to endorse the change within 15 days before the law is officially reformed.
Human Dignity Trust, a Non-Governmental Organization (NGO) based in London, UK, had taken legal action at the European court of human rights in Strasbourg, against the region's laws that criminalise homosexuality.
The London-based NGO's chief executive, Jonathan Cooper stated: "This is a historic day for gay people in Europe and a major victory for human rights, equality and the Human Dignity Trust".
He added: "Our case before the European Court required the law to be changed. Nowhere in Europe now still criminalises gay people and we are proud to say that we have played a significant role in bringing this shameful chapter in European history to an end. Laws against private, consenting homosexual acts between adults criminalise someone's very identity and have no place in the modern world".
Once the law is enacted, there will be no more states or territories in Europe and North America where homosexuality is considered a crime. On the oher hand, in Africa several new anti-gay laws have been passed that enforce harsh punishments for homosexual acts.
The Republic of Cyprus legalised gay sex in 1993. However, in the northern part of the island, currently under Turkish Cypriot administration, many British colonial-era laws, such as the one regarding homosexual acts, have remained in force.
Euronews' journalist Thomas Seymat contacted the office of British MEP Michael Cashman, who visited the northern part of Cyprus and called for a repeal of the law.
euronews: Can you tell us what today represents for you and Northern Cyprus?
M. Cashman: Today marks the recognition of hard work Lesbian, Gay, Bisexual and Trans (LGBT) community activism, persuasion and progressive politics can achieve. This is a victory for the LGBT community of Northern Cyprus and the politicians who have always supported them.
euronews: How do you think the repeal of this law will affect the relations between the international community, Northern Cyprus and Turkey?
M. Cashman: This law should send a positive and encouraging sign to LGBT activists and progressive politicians in Turkey. It should also encourage the international community to support the reunification of Cyprus, giving equal respect and equality to both the Turkish Cypriot and Greek Cypriot communities. Only by encouraging them to work together, respecting their differences, will we ever achieve a reunification. EuroNews