History of earthquakes in Oklahoma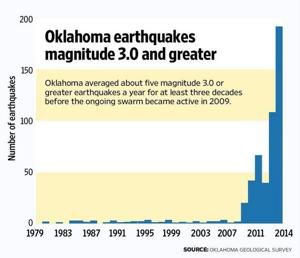 OKLAHOMA CITY - Oklahoma is a geologically active area. The rocks and faults that underlie the state reveal a history of significant seismic change. The occasional temblor has been known throughout state history to cause minor damage and rattle nerves.
The ongoing earthquake swarm that has shaken the state for the past four years has shaken Oklahomans and led to studies from organizations and universities throughout the region. But it is still unclear how rare the event is historically.
Despite the current swarm, five of the state's 15 largest earthquakes occurred more than five years ago, including a 5.5 near El Reno in 1952 and a magnitude 4.9 in Bryan County in 1882.
What might be unusual about the spate of activity over the past five years is that it has included so many minor rattlers. But that is a difficult comparison considering how recently seismic monitors have been installed throughout this part of the country. TulsaWorld