Imminent Global Tsunami: Euro Crisis and Canada Housing Bubble
STOCKHOLM: The eurozone crisis will get worse before it gets better and Greece could exit the single currency bloc within a year, Swedish Finance MinisterAnders Borg said in an interview on Saturday.
"I don't think we've seen the worst yet in countries like Spain and Greece
. They have such serious problems that Europe is going to be in a very difficult position during the next six to 12 months," Borg told public broadcaster Swedish Radio.
The Swedish finance minister, whose country is not a member of the eurozone, said he would not be surprised if Athens had to leave the 17-member eurobloc in the foreseeable future.
He stressed that while there was "much support" for the country in Europe, "we can't rule out the possibility that Greece will end up in a situation where it in practice leaves the euro in six, nine or 12 months."
It took the ECB a year of endless behind the scenes Machiavellian scheming to restart the SMP program (which was conceived by Jean-Claude Trichet in May 2010, concurrent with the first Greek bailout). The markets soared with euphoria that this time will be different, and that the program which is a masterclass in central planning paradox, as it is "unlimited" yet "sterilized", while based on "conditions" none of which have been disclosed, and will somehow be pari passu for new bond purchases while it retains seniority for previous purchases of Greek and other PIGS bonds, will work – it won't, and the third time will not be the charm as we showed before. Yet it has been just 48 hours since the "bailout" announcement and already Europe is being Europe: namely, it turns out that nobody wants the bailout.
On one hand there's Germany for obvious reasons – not only are they footing the cost, but it is for them that the threat of an inflationary spike as a result of "unlimited" bond buys is most acute. But on the other, just as we predicted all along, are Spain and France, the biggest beneficiaries of the bailout, and whose bonds
soared on expectations the ECB may buy them, who overnight have had a change of heart and say they never actually needed the bailout. Why? Because its politicians have suddenly had a change of heart and realize they will be sacked the second they hand over sovereignty over to the Troika or whatever supernational entity is in charge of the country following the submission of the bailout request.
More importantly, and as explained before, as long as the yield on the bonds of insolvent European countries is sub 8%, not one country will demand a bailout.
…
Italian Prime Minister Mario Monti said he is not expecting Italy to access the European Central Bank's new bond-buying program anytime soon in an exclusive interview on CNBC's "Closing Bell."
China sounded the alarm about the state of the global economy on Saturday and urged countries gathering at an Asia-Pacific summit to protect themselves by forging deeper regional economic ties.
Chinese President Hu Jintao said his country would play a role in helping deepen cooperation between the 21 members of the Asia-Pacific Economic Cooperation (APEC) by rebalancing its economy to improve the chances of a global economic recovery.
Russian President Vladimir Putin had also expressed concern about the world economy on Friday, and particularly about Europe's debt crisis, as he prepared to host the annual APEC summit in the Pacific port city of Vladivostok.
"The world economy today is recovering slowly, and there are still some destabilising factors and uncertainties. The underlying impact of the international financial crisis is far from over," Hu told businessmen in a speech before the summit.
BREAKING NEWS TODAY: CHINA INFLATION RISING QUICKLY AS ECONOMY SLOWS…….DOOM ON
(Reuters) - Germany should leave the euro zone if it is not prepared to take a more decisive lead in helping the euro zone's weaker nations escape a spiral of increasing indebtedness and economic decline, veteran financier George Soros said on Saturday.
As global real estate bubbles burst at differing intervals, those still engaged in the depths of mania fever find every convenient argument to justify the existence of the current inflated economic structure. We can debate the nature of the current US housing market but with the median nationwide home price at $151,600 from the most recent Zillow housing report and the median household income at roughly $50,000 prices look to be leveling out especially with the absurdly low interest rates. As we know, housing markets are regional so applying this nationwide trough to frothy markets may not be the best way to measure investment value. However, when we look at the Canadian housing market we realize how insane things have gotten. I'm amazed by how many of the debt rehab or home flipping shows have migrated to the Canadian market. Of course they rarely mention this thinking the American audience will mindlessly assume they are in some other US city to prime the consumption pump. Yet when we look at the metrics, Canada is poised for a deep and profound correction.
…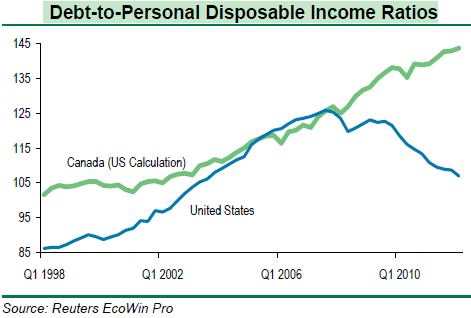 …
Fitch Lowers Rating On Short Term Bonds:
Sept 7 – Fitch Ratings has taken various conforming rating actions onenhanced municipal bonds corresponding to actions taken on their associatedenhancement providers or underlying bonds.
…
Short-term ratings on enhanced municipal bonds may be lower than those of their liquidity providers, as discussed in Fitch's 'Rating Guidelines for
Variable-Rate Demand Obligations Issued with External Liquidity Support', dated
Feb. 1, 2012.
…
These benefits are going to run out for EVERYONE on Jan. 1, 2013 (they're ALREADY running out for people who are losing their jobs now — I think after June 2012 you're not able to get them).
They're running out for me, too (luckily I qualify until the end of the year).
Only a small amount of people *may* get them until June 1st, 2013. After June 1st, 2013, it's definitely over.
All UI claims will get 25 weeks and that's it (maybe some state extensions, but those are so short they're almost not worth mentioning, and require a lot more paperwork and for you to jump through hoops to qualify).
A devastating global food crisis unlike anything we have ever seen in modern times is coming. Crippling drought and bizarre weather patterns have damaged food production all over the world this summer, and the UN and the World Bank have both issued ominous warnings about the food inflation that is coming. To those of us in the western world, a rise in the price of food can be a major inconvenience, but in the developing world it can mean the difference between life and death. Just remember what happened back in 2008. When food prices hit record highs it led to food riots in 28 different countries. Today, there are approximately 2 billion people that are malnourished around the globe. Even rumors of food shortages are enough to spark mass chaos in many areas of the planet. When people fear that they are not going to be able to feed their families they tend to get very desperate. That is why a recent CNN article declared that "2013 will be a year of serious global crisis". The truth is that we are not just facing rumors of a global food crisis – one is actually starting to unfold right in front of our eyes. The United States
experienced the worst drought in more than 50 years this summer, and some experts are already declaring that the weather has been so dry for so long that tremendous damage has already been done to next year's crops. On the other side of the world, Russia, Ukraine and Kazakhstan have all seen their wheat crops devastated by the horrible drought this summer. Australia has also been dealing with drought, and in India monsoon rains were about 15 percent behind pace in mid-August. Global food production is going to be much less than expected this year, and global food demand continues to steadily rise. What that means is that food inflation, food shortages and food riots are coming, and it isn't going to be pretty.