LA Meteor Creates Bright Light Across Southern California Sky
Los Angeles residents reported seeing a bright light zoom across the Southern California sky late Thursday.
Dozens of witnesses submitted accounts to the American Meteor Society that they saw what appeared to be a fireball, which is a very bright meteor, at about 10:30 p.m. The reports came in from across the LA area, including Alhambra, Anaheim, Burbank, Culver City, Garden Grove, La Crescenta, Pasadena and Ventura.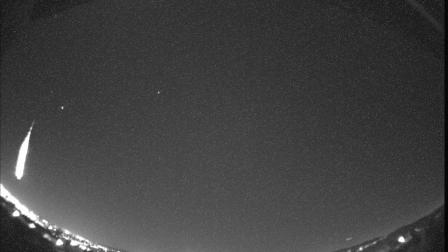 "There was extreme detail of this fireball from my location," Leslie A. of La Crescenta reported to AMS. "I actually saw flames with a trail of glowing lime green attached to it. very large in size. We are up toward the mountains."
One user on Instagram posted a photo, with the caption, "Truly feel lucky ti [SIC] have seen one of these tonight! #meteor #small #toclose [SIC] #scary #exciting!"
Slavik L. of Los Angeles wrote, "The glowing long trail was with it the entire time it was in my vision. From overhea until it looked like it went into the Silver Lake Reservoir." He continued, "The glow of the fireball was very thick and then at the end very small trail. Everything was blue and white."
The LA light show Thursday was particularly memorable for Micah P. of Glendale. "I've seen a few astronomical occurrences in my lifetime but nothing like this," he said. "I'm an amateur photographer and I was too shell shocked to grab my camera!! But I'll never forget it either!!!"
The sightings come days after Bay Area residents witnessed a stunning fireball shoot across the sky, and Floridians witnessed a meteor shower. But by far the most spectacular was, also this month, a meteor that blazed across the western Siberian sky and exploded with the force of 20 atomic bombs, injuring more than 1,000 people. HuffPost