Report: Islamic State to wage war on Iran for its nuclear secrets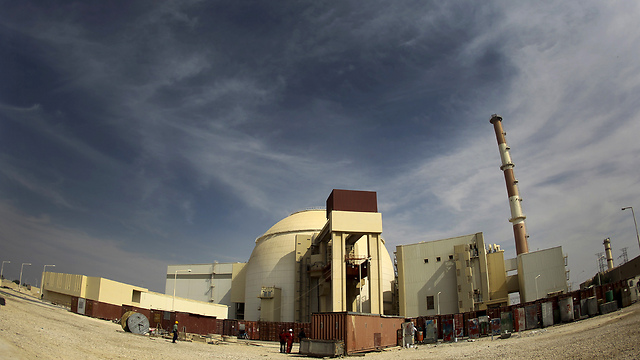 Sunday Times cites manifesto written by member of ISIS war council, proposing to offer Russia control of Anbar gas fields in return for Moscow cutting ties with Tehran and handing over its nuclear knowhow.
The Islamic State is preparing to wage war on Iran in order to obtain the secrets of its nuclear program, according to a manifesto attributed to a member of the Islamic State war cabinet uncovered by the Sunday Times.

The manifesto, believed to have been written by Abdullah Ahmed al-Meshedani, calls on ISIS militants to prepare for war against the Islamic Republic.
The document, thought to be a policy manifesto prepared for senior members of the organization's leadership, was found in the home of one of the ISIS commanders during a Iraqi special forces raid in March, the paper reported.

Western security officials believe the document to be authentic.
According to the document uncovered by the British newspaper, ISIS intends to obtain Iran's nuclear secrets through Russia. The organization will offer Russia access to Iraqi gas fields it seized in the Anbar area in return for Moscow cutting its ties with Tehran and pass on Iran's nuclear knowhow to ISIS.
Russian-built nuclear power plant in Bushehr, Iran (Photo: Reuters)
Russian-built nuclear power plant in Bushehr, Iran (Photo: Reuters)
Moscow must also cut its ties with the regime of Bashar Assad in Syria, and move its support to Sunni Gulf states opposing the Shiite Ayatollah regime.
Iran's Bushehr nuclear power plant was built by Russian contractor Atomstroyexport as part of a contract signed between Tehran and the Russian Ministry for Atomic Energy in 1995. In September 2013, operational control of the power plant was transferred from Russia to the Islamic Republic.
Al-Meshedani, responsible for recruitment of foreign fighters for ISIS, also calls for "Nazi-style eugenics" as well as the killing of shiite Iraqi officials, military leaders and members of Iranian-backed militias.
According to the document, the Islamic State aims to strip Iran of "all its power," by targeting Iranian diplomats and businessmen and profitable Iranian industries like its caviar and carpet industries.
Iran has warned that it would attack Islamic State group jihadists inside Iraq if they advance near the border.
"If the terrorist group (IS) come near our borders, we will attack deep into Iraqi territory and we will not allow it to approach our border," the official IRNA news agency quoted ground forces commander General Ahmad Reza as saying last month.
Iran is a close ally of the Shiite-led government in Iraq and has been unusually accepting of US military action in Iraq against the jihadists, but has criticised air strikes on Syria, saying they would not help restore stability in the region.
It has provided support to both the Iraqi government and Iraqi Kurdish forces fighting the jihadists and has dispatched weapons and military advisers.
Iran and the United States were said to be discussing possible cooperation against Islamic State in September, but both countries have since ruled it out. YNetNews